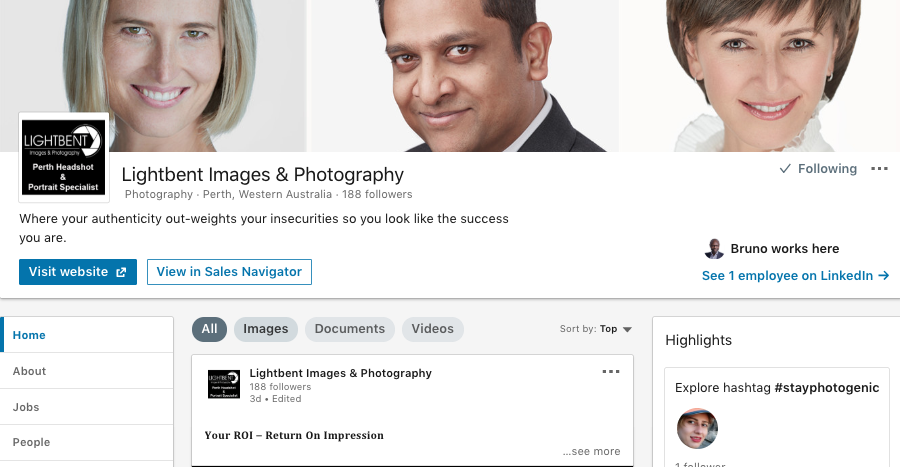 For many LinkedIn users, company pages are a no-go area. We have enough work to do with our personal profiles and we simply don't see the benefit of adding company pages to the mix. As a new convert to LinkedIn company pages myself, here are 5 reasons why I believe all business owners and professionals should rethink using company pages.
1. CHANGES TO COMPANY PAGES
LinkedIn has been dropping hints for some time that it is working on more changes to company pages. And whenever LinkedIn launches a new feature, it changes the algorithm to give a boost to members using that new feature. This results in a massive spike in views for those who have been brave enough to try it.
2. BUSINESSES BENEFIT
In its Action Plan for Small Businesses, LinkedIn says that once company pages gain 150 followers their opportunity for growth becomes exponential. If your business is in growth mode, it makes sense to be active on a social media platform dedicated to business, that is itself growing and is free.
3. CONTENT COUNTS
Buyers are tired of being sold to and actively resist efforts to advertise to them. Instead, they want information that helps them to make buying decisions that solve their business problems. LinkedIn company pages allow you to educate potential customers about how your business can help – in a low key, value-added way through informative, useful content. LinkedIn recommends regular and frequent posts from your company page to gain traction.
3. CRUSHING THE NEWSFEED
The newsfeed is filled with posts from members. Posts from company pages are much rarer, so they stand out. A well designed and implemented strategy that attracts attention and gains followers will help build your brand and position your company as a leader in its field; the same way you do with your personal profile
4. FREE PAGE INVITES
When you accept a connection invite, you are immediately offered an opportunity to follow their company page. The same with your invites. This is a great opportunity to gain followers so don't waste it by having a poor, or worse, no company page.
5. THE NUMBERS
LinkedIn says:
Completed company pages get 30% more weekly views.
Company pages that post daily get twice the member engagement
Video is 5 times more likely to drive engagement than other media types
To learn more about how to create an impressive presence on LinkedIn click here, or to find out how Word Wizard can help you stand out from the crowd on LinkedIn through our marketing programme, ConnectMe, please go here.